O comedie despre fete şi băieţi care joacă fotbal. Cu prietenii complicate, mame anxioase, antrenori prea exigenţi şi Jo – un băieţel de 12 ani care încearcă să evite fetele, mamele şi antrenorii. Speră că îşi va rezolva toate problemele dacă reuşeşte să găsească un cartonaş cu jucătorul de fotbal râvnit de toată lumea. Povestea unui băieţel inteligent care, deşi certat cu sportul, reuşeşte să primească titlul de "Portarul Liverpool".
TRAILER
PORTAR LA LIVERPOOL / THE LIVERPOOL GOALIE / KEEPERN TIL LIVERPOOL (2010)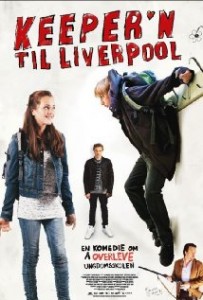 țara: Norvegia
durata 90'
regia: Arild Andresen
scenariul: Lars Gudmestad adaptat după romanul "Keepern til Tunisia" de Lars Mæhle
data lansarii oficiale: 22 octombrie 2010 (Norvegia)
producător 4 1/2 AS
distribuitor: NonStop Sales
Premii
2011 Berlin International Film Festival: Crystal Bear for the Best Film, Special Mention from the Generation International Jury of the Deutsches Kinderhilfswerk; Montreal International Children's Film Festival FIFEM: Grand Prix; Cinequest Film Festival: Audience Award; BUFF International Children and Young People's Film Festival: The City of Malmö´s Children Film Award, European Children's Film Association – ECFA Award; Zlin International Film Festival for Children and Youth: Main Prize The Golden Slipper, for best feature film for children, The Don Quixote Award – FICC Jury Award, Ecumenical Jury Award for Children; Lucas International Children's Film Festival: Don Quijote Award from FICC (International Federation of Film Societies); Buster – Copenhagen International Film Festival for Children and Youth: Nordisk Film Foundation's Best Child Actor to Ask van der Hagen, Danish Film Directors' Best Film for Children; Kinderfilmfestival Marburg: Best Children Film; ViewFinders: Atlantic Film Festival for Youth: Best Feature Film.
Festivaluri
2011 Berlin International Film Festival; Montreal International Children's Film Festival FIFEM, Cinequest Film Festival, European Youth Film Festival of Flanders, Film Society of Lincoln Center, New York, BUFF International Children and Young People's Film Festival, Kristiansand International Children's Film Festival, Zlin International Film Festival for Children and Youth, Plein la bobine – Sancy Film Festival for Young People, Seoul International Youth Film Festival, Giffoni Film Festival, Melbourne International Film Festival, Lucas International Children's Film Festival, Buster – Copenhagen International Film Festival for Children and Youth, Leipzig Filmkunstmesse, Reykjavik International Film Festival, Carrousel international du film de Rimouski, Filmfest Hamburg, Kinderfilmfestival Marburg, Cine Spark, Brisbane, Cinekid, Kinderfilmfestival Kassel, Tel Aviv International Children Film Festival, LIFFe – Ljubljana International Film Festival, Vienna International Children's Film Festival, Cinemagic International Film and Television Festival for Young People, Just Film, Children's Film Festival Cologne, Oulu International Children's and Youth Film Festival, Stuttgarter Kinderfilmtage, Poznan International Young Audience Film Festival Ale Kino!,
2012 ICFFCY – International Children's Film Festival of Cyprus, Discovery Zone – Luxembourg City Film Festival, ViewFinders: Atlantic Film Festival for Youth, Gli Anni in Tasca Youth and Cinema / International Film Festival for Young People, KidsFest Indonesia, Festival do Rio – Rio de Janeiro International Film Festival, Regiofun,
2013 BUFF International Children and Young People's Film Festival
IMAGINI DIN FILM